Video as Art
Hands-on experience in video production for the artist! This intensive course teaches skills in digital video capture, editing, and presentation while providing an overview of video in the contemporary arts, including storytelling, installation, performance, and documentation. Several skill-building assignments lead to the creation of a final, self-initiated creative project.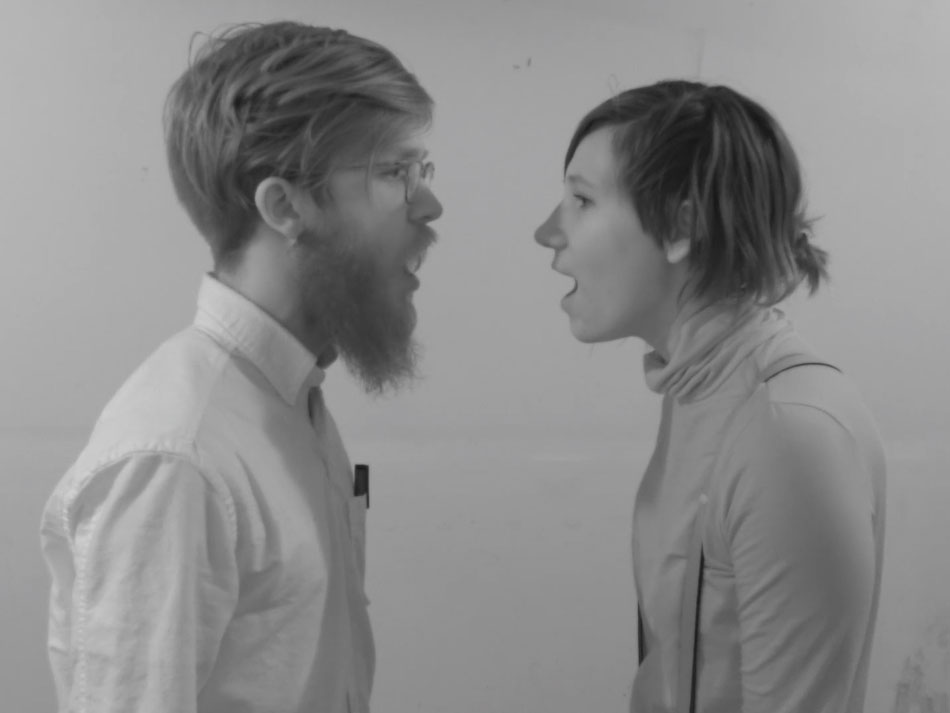 Student Work: "After____________"
Reenactment is distinctive in that it invites transformation through memory, theory, and history to generate unique and resonating results. As Sven Lütticken concludes in his lucid essay "An Arena in Which to Reenact," reenactment "may lead to artistic acts that, while not instantly unleashing a 'tremendous emancipatory potential,' create a space—a stage—for possible and as yet unthinkable performances"

- Robert Blackson, "Once More…With Feeling: Reenactment in Contemporary Art and Culture," 2007
Restage one of the early performance-based videos from the list provided. Your goal is not merely to repeat but rather to re-invent the original. Consider what it means to re-enact the piece some 35-40 years after the original performance was put on tape. How has the historical context changed, and in what ways is it the same? What idiosyncrasies, blind spots, or attributes of its time can be addressed or updated through your restaging? What quirks of our present cultural moment might be illuminated by including them in your reperformance? How does taking documentation of a performance – largely planned but unscripted—and using it as a 'text' change its meaning? In short, what does the present have to say to— and through—this artifact of the past?
Your reenactment may take great liberties with the original piece, but your documentation plan should include shooting at least one full-length shot that maintains the camera-on-tripod grammar of the original video work. Consider your video documentation carefully: by using multiple cameras and editing, you may be able to emphasize elements of the performance in ways the original artist could not.

Ian Abrams (BFA, Drawing), "Bicycle Mechanic (After William Wegman)," Spring 2013.

Tony Ramos (BFA, Graphic Design), "Rolling Device (After Bruce Nauman)," Spring 2013.

Student Work: "Un/Reliable Narrators"
Our assessment of the trustworthiness of a person is based not only on the plausibility of his/her story but also to a great extent on his/her visual appearance, on a complex interplay between media standards of authenticity and personal character as it is manifested in gestures and body language. It is the specific characteristics of the body, which are so hard to control or manipulate, that bestow on the subjects the vitality that makes them and their stories seem real.

- Matthias Michalka, "The Casting Reviewed," 2007
Conduct an interview with one or more individuals totaling about 30 minutes in length. Use this footage as the basis for a video in which you examine how authenticity and trustworthiness are established or undermined in the media image. The goal is not to 'trick' the viewer but rather to foster reflexivity and criticality about how narrators are constructed as believable or untrustworthy, as sympathetic or unsympathetic, as individuals or representative of a group. Taking the works screened in class as a point of departure, you may:
Radically edit the interviewee's words while exposing your authorial hand (Omer Fast)
Use actors to blur the boundary between authentic and inauthentic testimony (Sam Taylor-Wood)
Manipulate or withhold a speaker's image (Jacqueline Goss)
Replace the words of one speaker with those of another (Gillian Wearing)
Allow a speaker's singularity to slowly emerge (Candice Breitz)
Or some other formal gesture that self-reflexively reveals the production of truth in the context of documentary.

Tyler Lynch (BA, Film/Video Production), "These Ideal Forms," Spring 2013.


Dana Telrow (BA, Art and Music), "After Party Interview with Dangus Telsrow," Spring 2013.
Student Work: "Ubiquitous Images"
We live in a world of disposable icons, of Ten-Day Wonders and This Year's Models. [ ... ] Andy Warhol may not have accurately measured the half-life of fame. It surely persists longer than fifteen minutes, which accounts for the proportionate rise in boredom as a determining factor in everyday life. But Warhol got it exactly right about the general ambition of life in a mediacracy. Trash is no longer a dispensable appliance of contemporary existence.

- Dave Marsh, Louie Louie, 1993
The moving image detritus of the twentieth and twenty-first centuries is at your disposal like never before; you probably generate at least some of it every day yourself. Taking recent works (2000-present) screened in class as a point of departure, create a short video piece that reflects on the status of the moving image a century after its popularization and two decades into the Internet. Pick one formal or conceptual approach from each list.
Material: Found footage, Genre Conventions
Look: Plug-in Effects, Digital Degeneration
Form: Black Box Screening; Video in/as space or object

Angela Barr (BFA, Intermedia), "No Metal, No Nails," Spring 2013.


Tyler Lynch (BA, Film/Video Production), "8 Hours of YouTube," Spring 2013.
Select Student Comments
"I wanted to thank you for being a great teacher. Video as Art was definitely one of my favorite classes that I have ever taken, and I do wish that I would have discovered my propensity for visual art sooner in my collegiate career. You have a balance between cool-ness and teacher-ness that made it easy for me to become excited about my own ideas and approaches and I appreciate the freedom I had to explore my own pathways. Thanks for helping me think through some of my wonderings as an artist." (by email, Spring 2013)
Top image: Angela Barr (BFA, Intermedia), "Modern Love (After Abramovic)," Video as Art – Spring 2013.
Cover image: Dana Telsrow (BA, Art and Music), "Telsrow Performing Baldessari In The Style of Baldessari Singing Sol LeWitt in The Style of Telsrow After Baldessari," Video as Art – Spring 2013.