News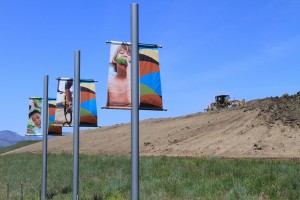 A People's Atlas of the Nuclear United States
An outgrowth of my longstanding collaboration with Shiloh Krupar, "A People's Atlas of the Nuclear United States" is a digital public arts + humanities project addressing the environmental and human health legacies of the nuclear weapons complex – now speculated to increase in size after decades of reductions and "stockpile stewardship." Look for a prototype in June 2018.
Talks, Papers, and Publications
I'm giving paper presentations at ASAP9 in Oakland in October 2017 and the College Art Association Conference in Los Angeles in February 2018. Shiloh Krupar and I have a book chapter on the first five years of the National TLC Service coming out in Toxic Immanence, edited by Livia Monnet and Peter C Van Wyck and expected sometime in 2018. An excerpt of the script for My Electric Genealogy will be published in early 2018 in Ecologies, Agents, Terrain, edited by Christopher Heuer and Rebecca Zorach.
My Electric Genealogy
I am continuing to slowly develop and produce accompanying media for My Electric Genealogy, a 45-minute performative film about my grandfather, former head of the LA Department of Water and Power. In the performance, I speak "through" my grandfather, channeling him via a 1930s men's suit to address my complex inheritances of gender, techno-utopianism, and carbon debt. The project is an outgrowth of a six-minute monologue developed in April 2014 for Esther Baker-Tarpaga's "Ten Tiny Performance" at the Englert Theater and has so far been performed at Iowa State University, as the 2015 Goldfarb Lecture in the Department of English, at CalArts for the And Now conference, the Mapping Meaning workshop on Santa Cruz Island in 2016, and at the Clark Art Institute's "Ecologies, Agents, Terrains" symposium in 2017. I'm working on building my performance skills and looking to premiere the project for real in early 2019.
National TLC Service
The National TLC Service will participate in an exhibition on Rocky Flats curated by the artist Jeff Gipe in the Canyon Gallery of the Boulder Public Library April-June, 2018.
Subscribe to my mailing list
New news, thrice annually