News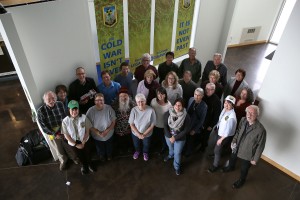 National Toxic Land/Labor Conservation Service
In March, Shiloh Krupar and I facilitated the latest speculative design charrette for the National Cold War Monuments and Environmental Heritage Trail. We have been remiss about updating our website for awhile but plan to get images up in the fall, as well as a downloadable charrette report.
Re-Collecting Black Hawk Events
Nicholas Brown and I recently spoke on Re-Collecting Black Hawk at Chicago's Harper College and Milwaukee's Woodland Pattern Bookstore. We've also been gratified (if also somewhat terrified)  reading over the reviews from the first year. More information on the book is available on the companion website: www.recollectingblachhawk.net.
My Electric Genealogy
I am continuing to slowly develop and produce accompanying media for My Electric Genealogy, a 45-minute performative lecture about my grandfather, former head of the LA Department of Water and Power. In the performance, I speak "through" my grandfather, channeling him via a 1930s men's suit to address my complex inheritances of gender, techo-utopianism, and carbon debt. The project is an outgrowth of a six-minute monologue developed in April 2014 for Esther Baker-Tarpaga's "Ten Tiny Performance" at the Englert Theater and has so far been performed at Iowa State University, as the 2015 Goldfarb Lecture in the Department of English, and at CalArts for the And Now conference. Like most things I do, the project it iterative, and I'll be next performing it, without media and in more intimate form, in the Mapping Meaning workshop on Santa Cruz Island in July 2016.
Subscribe to my mailing list
New news, thrice annually