My Electric Genealogy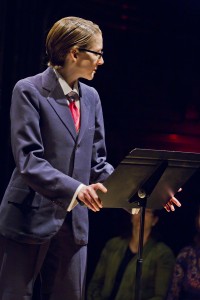 My grandfather would have been ninety-nine the year my daughter was born.
They share a century, but not one with a name. He, born ten years into the twentieth; she, nine years after its not-yet-apocalyptic end. I float two-thirds of the way between them: the Kanouse reproductive rhythm seemingly calibrated in 33-year cycles, like a brood of undiscovered cicadas.
Poised on opposite shores of that oceanic expanse we call the twentieth century, they will never see each other's faces, but mirror images they are all the same. 
- Opening lines of performance script, My Electric Genealogy
"My Electric Genealogy" is an hourlong performance film that revisits family history as environmental history. For nearly 40 years, my grandfather worked for the Los Angeles Department of Water and Power, where his design, planning, and management of the electric grid helped enable the city's explosive growth. From the 1930s until his retirement as general manager, my grandfather made a second family of the grid and its substations, converter stations, and interties, photographing these monuments of the modernist everyday with one foot in the aesthetic and another in the techno-scientific sublime. Like Smithson's "ruins in reverse," these images project a future of their own obsolescence: my grandfather's transmission towers now stand as readymade monuments to climate change, even as it escalates and unfolds. "My Electric Genealogy" pairs archival and original still and moving images with live narration, original sound, and choreographed movement in order to ask far-reaching questions about intergenerational environmental responsibility in the Anthropocene. In what ways are infrastructures, human lives, and other beings connected through shared but unequal vulnerability, and what obligations does this condition imply? "My Electric Genealogy" makes intimate the inheritance of crumbling infrastructures that imperil the planet and considers the aesthetic, ethical, and practical responses they demand.
Work-in-Progress Performances
Williamstown, MA – Clark Art Institute, 2017
Santa Cruz Island, CA – Mapping Meaning, 2016
Valencia, CA – California Institute of the Arts, And Now! Blast Radius: Writing and the Other Arts, 2015
Ames, IA – Iowa State University, Goldfarb Lecture, 2015
Iowa City, IA – Englert Theater, Ten Tiny Performance, curated by Esther Baker-Tarpaga, 2014
(as "Sketches from the Death of My Grandfather")
Credit
Sarah Kanouse, My Electric Genealogy, performance, work-in-progress